Guest presenter Dr Iandoli
On Wednesday April 27, the Provost's Office hosted another dynamic impact conference, "Elegantly Designing the Future of Computing, Communication, and Education." This Impact Talk featured three prominent scholars who are experts in the fields of technology, design, media, learning, and the fusion of these and other fields.
Dr. Luca Iandoli, Associate Dean for Global Programs and Research and Professor in the Department of Computer Science at St. John's University, opened the event by presenting highlights from his book Elegant Design. Integrating a range of interdisciplinary research, from Darwin's Voyage of the Beagle to Gell-Mann's Quark and Jaguar, with famous works of art and design, Dr. Iandoli explained how the human mind navigates the extremes of simplicity and complexity. He defined "elegant design" as an experimental way of thinking that finds moderate complexity, neither sensory overload nor an austere lack of detail. He also spoke of thinking aesthetically, applying this aspiration to elegance to issues and problems outside the realm of aesthetics: elegant organizations, elegant engineering, and elegant science.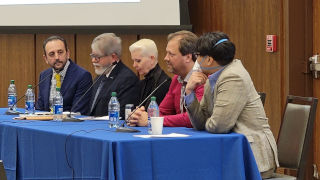 The panel answers questions from the audience
After Dr. Iandoli's presentation, the audience was treated to a round table. The panel included Professor Mark Juszczak, Assistant Professor of International Communication at St. John's University; Professor Edrex Fontanilla in the Division of Mass Communication at St. John's University; Acting Dean Joseph Martinelli, College of Education and Human Services; and Acting Dean Renee Robinson, College of Communication and the Arts. Paul Fisher, Deputy Chief Information Officer, also contributed. The insightful, innovative, and lively discussion elaborated on the benefits and challenges of merging and joining in the contexts of academic research, experimental art, and academic programs and organizations. Subsequently, the public and the panelists participated in working groups.
This session was very insightful in so many ways and looked at how we can open ourselves up to different ways and perspectives of approaching how design influences so many facets of our lives, learning, work, etc.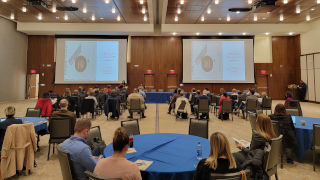 Impact Talk: elegantly designed presentation
Our featured presenter, Dr Iandoli, shared his thoughts on attending: "It was an honor and above all a pleasure to have the opportunity to share my work with you and to participate in the exciting conversations that took place during It was also heartwarming and reassuring, I would say, to see how the academic community at SHU and other schools are rolling up their sleeves to meet the challenges of 21st century higher education with energy, openness and a positive attitude. . food for thought and for the spirit."
For those who were unable to attend the event, please Click here to view the presentation.